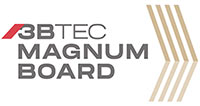 MagnumBoard is a complete wood construction system
precise and solid – large format and fast – healthy to live in and modern – unique and long-lasting – approved by building authorities
Welcome to MagnumBoard, the pioneering ecological solid timber construction system. You will find a wide range of information on the many possible applications and benefits offered by our system. All the relevant technical data and complete documentation is available in the Downloads section.

Please do not hesitate to contact us directly (in German and English) at the following phone number + 49 (0) 33 78 - 20 77 55.